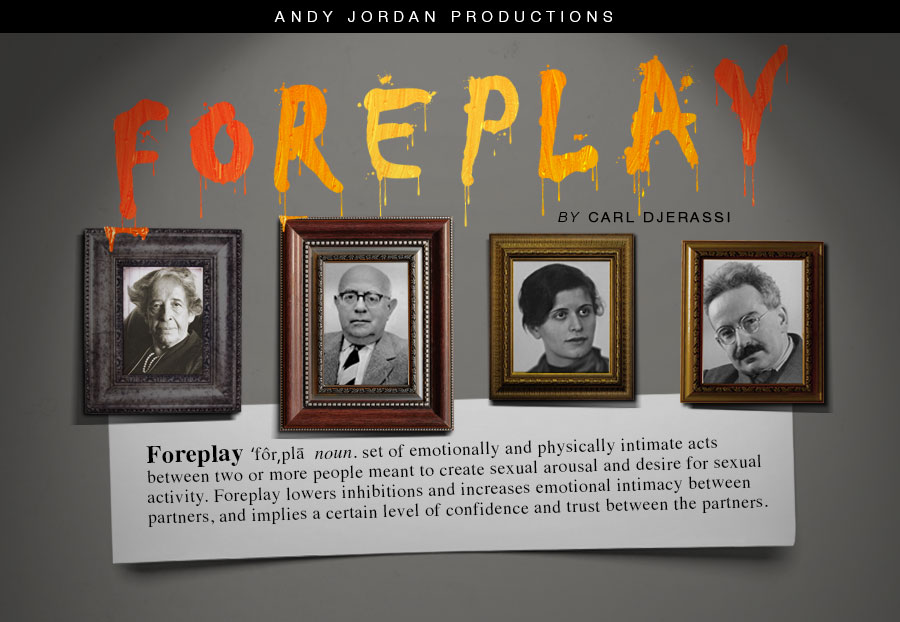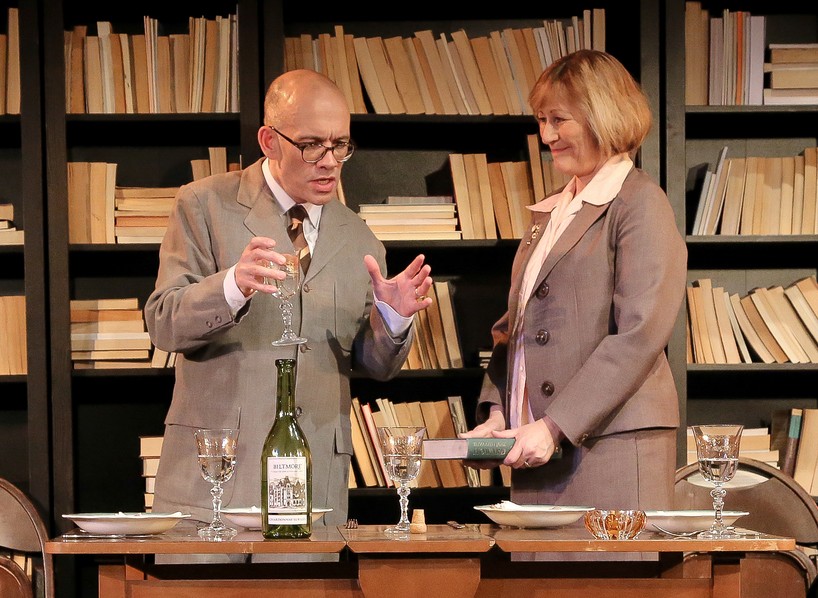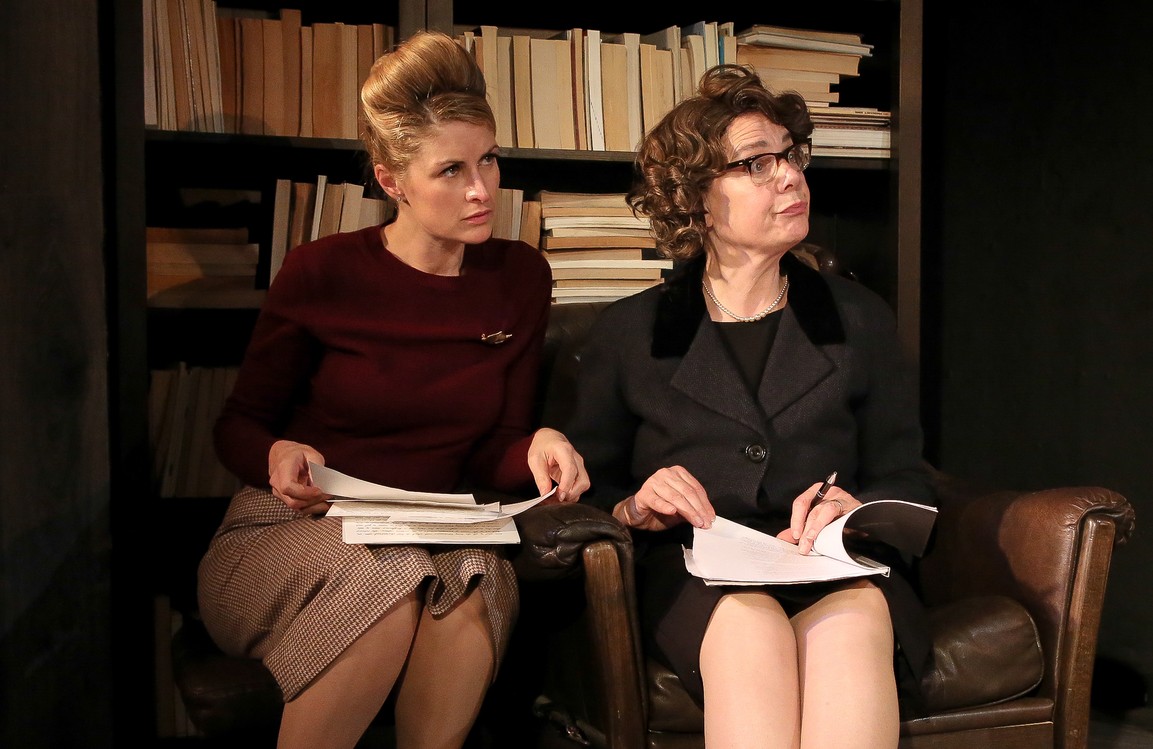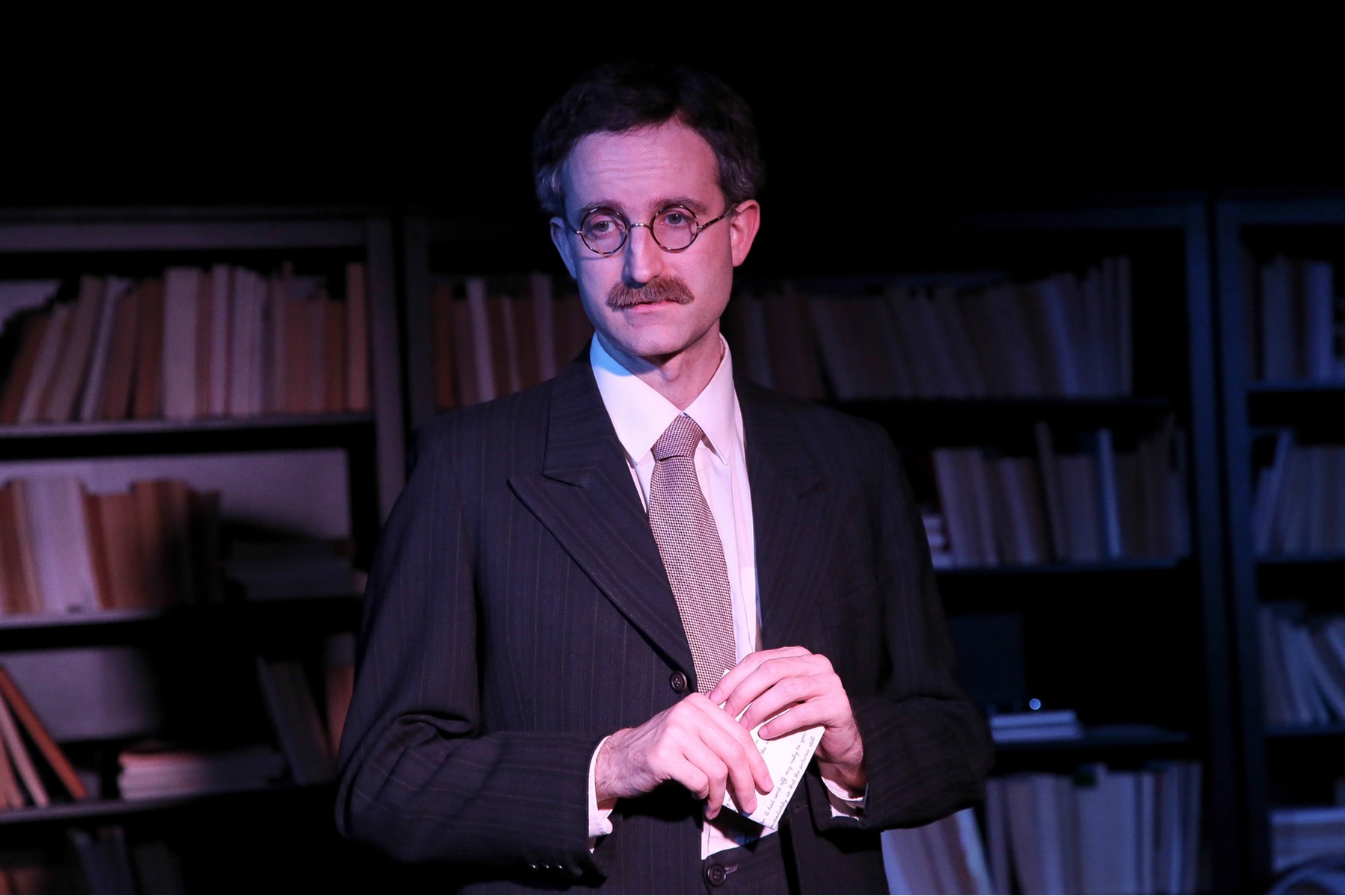 Production photos by Andreas Grieger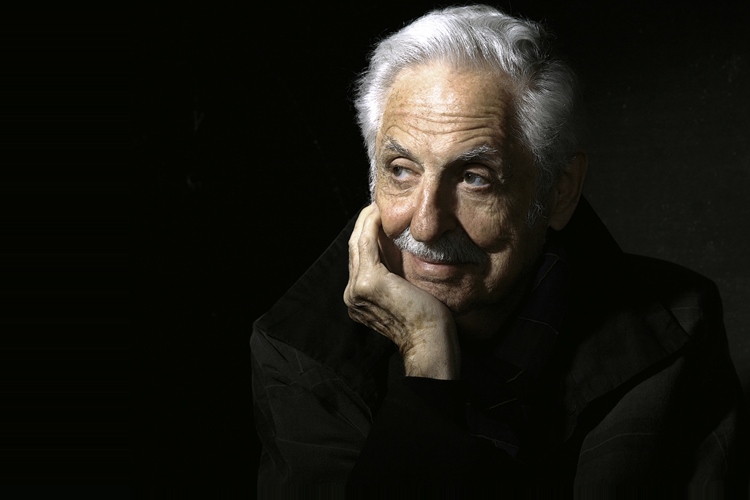 Carl Djerassi was a world famous scientist best known for the development of the contraceptive pill, an achievement which made
him the only living person to be included in The Sunday Times list of the Top Thirty Men of the Millennium. Carl Djerassi's science-in-theatre plays have been translated into 21 languages and given over 100 presentations around the world. Further information can be found at www.djerassi.com
Photo above by Karen Ostertag
AJP has presented the London premieres of five Carl Djerassi plays:
'humorous, fast-paced and wholly unexpected...'
Chemistry World on Insufficiency
'A play of ideas but it does not feel heavy or difficult to grasp. Like the champagne bubbles, it fizzes along pleasantly...'
thegoodreview.co.uk
this play is a delight – cleverly written and with enough drama in the interpersonal politics for the flashback scenes to stand as a play in their own right. Tim Dutton is truly superb .....while Walter Van Dyk gives a sterling performance as his long-suffering head of department. .... the piece is tremendously watchable and the relationships believable and compelling..... a production that is full of chemistry'
The Public Reviews
'A wicked take on the mantra "publish or perish", Many laughs and belches ensue...'
The Economist
"...up-to-the-nanosecond comedy…
Djerassi's witty script flings up a thousand pertinent questions…"
Evening Standard on An Immaculate Misconception
"Carl Djerassi has brilliantly combined a painless lesson in technology with a tender tale of love and rivalry between scientists… keeps you guessing to the last moment."
What's On about An Immaculate Misconception
"….a lively, flirtatious presentation of science…
a satisfyingly spicy scientific number."
Evening Standard on Oxygen
"…brilliantly theatrical…sparkling originality…this is daring stuff… a bold and stimulating drama whose style is utterly unique."
Ham & High on Calculus
"…Djerassi's screwball comedy…. funny lines and gags… Director Andy Jordan plays the action on and off the couch to great effect."
Hollywood Reporter on Three on a Couch
"….an excellent evening….vastly entertained by the play…. some fine one-liners..."
WhatsOnStage on Three on a Couch
"Part detective story, part satire of academic infighting, the play rolls along under Andy Jordan's fluid direction, comfortably mixing broad comedy with thought-provoking debate."
The Stage on Phallacy
FOREPLAY
by Carl Djerassi
Sex of the body or sex of the mind? What goes deeper? Which is more pleasurable? Which hurts more?
Some of the greatest minds of the post-War central European generation, Theodore Adorno and his wife Gretel, Hannah Arendt and Walter Benjamin became caught up in a heady mix of sexual and intellectual intrigue, infidelity, rivalry and mutual obsession. Years later, with Benjamin dead and Adorno established as one of the leading thinkers of his time, he, Gretel and Hannah are invited to a meal by a mysterious young woman. When their host reveals that she has access to documents that could change their lives for ever, all three are forced to face the lies, jealousies and sexual proclivities that they have hidden for decades, as their loyalty to each other is tested to the utmost.
An intriguing psycho-sexual thriller of betrayal and revenge, Foreplay took audiences into the lives of some of the greatest intellectuals of the 20th century to expose the chasm between the public and private, what is erotic and what is pornographic, and the uneasy relationship between genius and hypocrisy in us all.
Foreplay ran for five weeks at the Kings Head Theatre in April 2014.



'The play allows Djerassi to lay out his own theory in dramatic form....It's a fascinating theory, expounded carefully, but at pace. Djerassi's makes a dry academic curiosity surprisingly bracing.'
The Telegraph

'Djerassi shows that even the most brilliant minds get caught up in sexual and professional jealousy and relentless competition.... The love letters Gretel and Benjamin exchange are poetic and full of passion and beautifully read'
UK Theatre Network
'A comedy born of the debate between exceptionally witty characters.... The acting from the experienced cast is superb, bringing life to an absorbing, intimate story.... Overall, a highly intelligent, funny and educational play.'
Bargain Theatre Land
'The cast are absolutely superb... I could have easily been watching something at the National.... Foreplay is one of the most high quality pieces of theatre I have ever seen at King's Head.'
West End Frame
'Great acting – the cast handled magnificently the wit and the comedy of this piece. Foreplay is a brilliant speculation on the sexual and intellectual intrigues of some of the world's most towering thinkers.... You don't have to be a brainiac to enjoy this psychosexual thriller.'
Everything Theatre
'Carl Djerassi has wit and style and an impish sense of humor. In this play he satirises some of the distinguished academics he has encountered and studied during his ninety years of life. This play is unusually stylish and elegant for a fringe production'.
Remote Goat
'Never less than gripping'
Plays to See
'The overall success of the play rides upon superb dialogue. Djerassi writes conversation fluidly, and with references and puns that clearly delighted the audience. It cements Djerassi's skills as not only a biographer, but as a talented playwright.'
PostScript Journal,

'The play is conveyed to perfection and there isn't a weak link in the cast with some very strong performances, my favourite being Judi Scott as the fearsome Hannah Arendt.'
Gay UK

'Powerful performances tell this story of love, sexual fantasy and betrayal ....and at points have the audience on the edge of their seats... if you are looking for an evening of gritty drama and strong performances you won't be disappointed'
West End Wilma
Read an interview with Carl Djerassi in the Independent on Sunday here.
Carl Djerassi talks about why he started writing plays:
Cast:
Theodor ('Teddie') Adorno Andrew P Stephen
Gretel Adorno Jilly Bond
Felicitaz Lesley Harcourt
Hannah Arendt Judi Scott
Younger Gretel Adorno Laura Hanna
Walter Benjamin Mark Oosterveen
Directed by Andy Jordan and Jake Murray
Designer Ana-Sofia Londoño
Composer/Sound Designer Simon Slater
Lighting Designer Derek Carlyle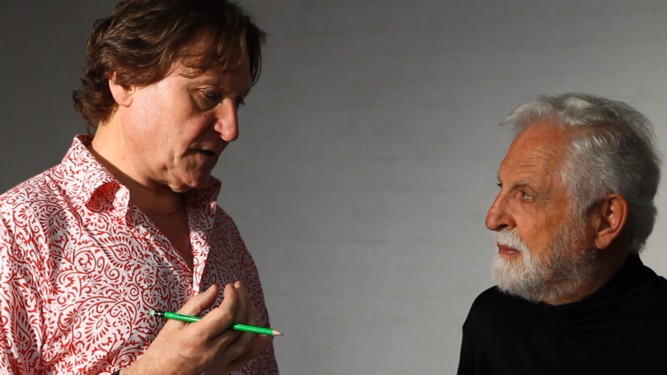 Andy Jordan and Carl Djerassi